PETER WARREN
- Who is Warren
- Broadcaster
- Investigator
- Warren's Services
- What he is working on
- Warren recommends
SPECIALS
- Celebrity guests
- Special editorials
- Fans & Foes
- Warren in the news
- Warren Answers Questions
LISTENERS
- Around the world
CONTACT
- To contact Warren
- If you have a story
--- "(for my eyes only")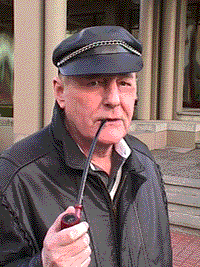 "I would like to thank Warren for checking the facts, and giving me air-time to start the ball rolling and proving my innocence."
Thomas Sophonow, who spent four years
wrongfully imprisoned for a murder he did not commit.
Much of Warren's radio and newspaper work has involved investigative reporting.
His "Scam Of The Month" series in the 1990s earned him an award from the RCMP; posing as a would-be naïve investor, an early newspaper series in The Winnipeg Tribune resulted in Canada's first legislation against pyramid schemes; he has spent a week in a federal penitentiary living as a con, and four days as a patient inside the locked ward of a psychiatric institute.
Vietnam veterans honored him for his battle to have Ottawa recognize Canadians involved in that conflict.
He has helped solve murder cases, been a foot soldier on training exercises with British commandoes in Hong Kong's New Territories, carried on years of correspondence with child-killer Clifford Olson, outed a pedophile teacher, and his CKNW Radio series "Where Are These Women ?" was an early crusade for stepped-up investigation into the deaths of sex-trade workers on Vancouver's notorious Downtown East Side.
Some of his investigative work these days is carried on behalf of victims seeking closure, but not publicity, to cases involving sexual abuse, medical mistreatment, even murder.